Who is your key goal scorer ?
How does your style of play and choice of tactic dictate?
These are the questions we asked ourselves recently,
but feel free to post your own findings to this thread.....
After being inspired by the
Koenigswinter boys
, I thought I'd start this topic!
Using the spreadsheet below, at
Helland III
we too would take the 10 or so seconds after each match to keep a record. Beforehand we instinctively thought it would be Barber but it wasn't quite what we expected....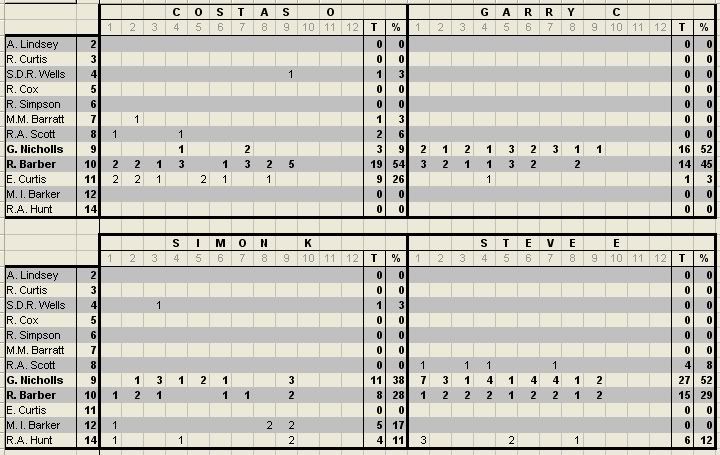 As it turned out, Costas was the only player who scored most with Barber!
Interestingly his second highest scorer wasn't Nicholls but E. Curtis. Of the four of us, Costas has the broadest source of goals coming from six different players. Maybe an indicator of Costas using the full width of the 'balanced' tactic?
Like the rest of us, Nicholls was my top scorer but only by a fraction. My front two accounted for 97% of my goals too, which could be a lack of variety and flair in my play! Or is this typical for a 532 player I wonder? Si's results show his habit of half-time substitutions, and like me his front two positions of a 532 tactic were his major supply route.
Ste showed the most significant use of Nicholls, even more so if Hunt's goals are added to this tally (who usually offers a fresh pair of legs for a tiring Nicholls). He also got more goals out of Scott than anyone else which is pretty impressive when you consider he can't even shoot straight.
I'm sure there are more observations but these thing stand out on first impression.