It's that time of year again!
The honours fall to me this year to get this show on the road and where else could it be held but in the heart of the UK KO2 universe, Birmingham.
The usual excellent hotel has been booked for
Saturday May 14th
Hotel website:
http://www.hiexpress.com/hotels/us/en/o ... oteldetail
Location:
http://maps.google.co.uk/maps?f=q&sourc ... 02929&z=16
Please spread the word to those who rarely visit the forum.
Confirmed:
Steve C
Steve E
Garry C Robert S Andy E Durban Simon K Andy HarrisSimon ButtJon Greenaway
Likely:
Graham S (25% - car trouble)
Steve Brown
Format:
A "play each other twice" league
Ideally arrive before 11am, for a 12am kick off. The tournament room will open at 9am however. Aiming to finish vaguely around 6pm.
The bar will be open for a beer or three should you wish to make use if it!
Entrance fee - Anywhere between £0 and £10, you decide
Hardware:
(Initially aiming for 6 Amiga stations)
Please post if you can bring something to improve on the hardware quality. No fuzzy screens or dodgy cables please!
Amiga - A1200 SteveC
TV - SteveC
Cable - SCART SteveC
Amiga - A1200 SteveC
TV - SteveC
Cable - SCART SteveC
Amiga - A500 SteveC
TV - SteveC
Cable - SCART SteveC
Amiga - A1200 Garry C
TV - Garry C
Cable - SCART Garry C
Amiga - A1200 SteveE
TV - Monitor SteveE
Cable
Amiga - A1200 SteveE
TV - Monitor SteveE
Cable
Game recording laptop - SteveC
Results entry laptop - ? (maybe SteveE)
The Heroes 2010
The Heroes 2009
-
Photos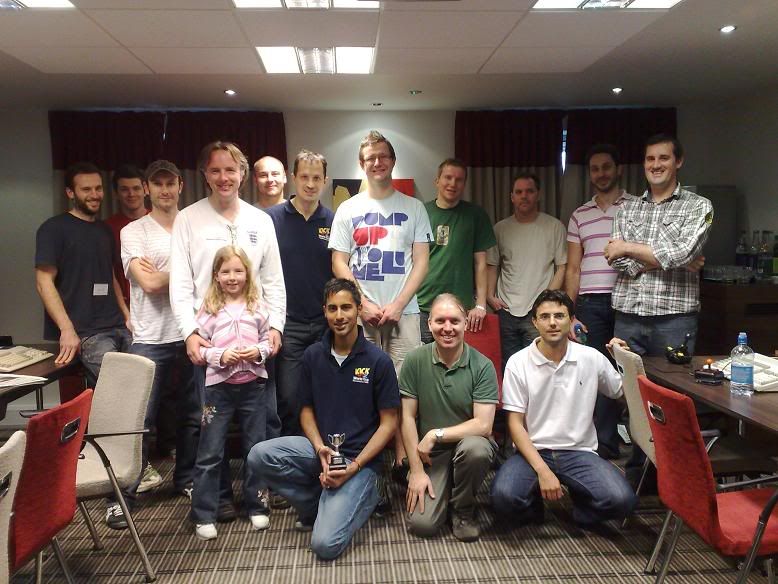 One champ to rule them all 2008
The UK Championships Hall of Fame
UKC '02 Champion - Rikki F
UKC '03 Champion - Martin J
UKC '04 Champion - Martin J
UKC '05 Champion - James B
UKC '06 Champion - Dan C
UKC '07 Champion - Gianni T
UKC '08 Champion - Jon G
UKC '09 Champion - Jon G
UKC '10 Champion - Steve E